August 09, 2016
It's Tuesday once more which means more blurays to add to our collections. Today is a much smaller release week, but also has some nice additions. Synapse Films releases the
Basket Case
sequels
Basket Case 2
and
Basket Case 3
remastered, both with cool reverse cover arts as well. Scream Factory releases a new film
Baskin
that has an interesting premise and I look forward to checking out sometime soon. There are a couple TV Shows released as well;
Supergirl
the complete first season and the greatly reviewed scifi mystery
11.23.63
. I missed out on this miniseries when it first aired so I am looking to pick this up today. So again light week this time. What will you be buying, renting or skipping this week? Let us know in the comments. Also don't forget to follow our Instagram page
here
and our Facebook page
here
. We love talking about all things horror. Until next week!
Basket Case 2 (1990):

Amazon

- $12.99
Duane Bradley and his surgically-separated twin brother Belial return in this frightfully gory follow-up to Frank Henenlotter's original monster movie classic, BASKET CASE. After surviving a fall from a hospital window, the two brothers become media targets. Duane's aunt, Granny Ruth (played by world-famous Jazz singer Annie Ross), whisks the duo away to a secluded mansion, where other freaks-in-hiding live out their days away from public scrutiny. When a snooping tabloid reporter finds the location of the mutants, Duane and his new family must stand together to keep their freedom a secret. And, in all the chaos, Belial might actually find true love!
Synapse Films is proud to present BASKET CASE 2 in a beautiful high-definition transfer from the original 35mm camera negative
SPECIAL FEATURES:
THE MAN IN THE MOON MASK – Interview with "Half Moon" actor, David Emge
BEYOND THE WICKER – Behind-the-Scenes Featurette from Special Effects Makeup Artist, Gabe Bartalos
Reversible Cover art with newly commissioned front piece by Joel Robinson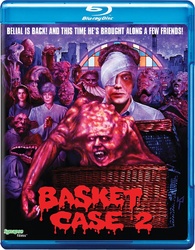 Basket Case 3 (1991):

Amazon

- $12.99
He's back. He's bad. And, he's a dad! Belial, everyone's favorite beast-in-a-basket, is back in this sensational third film in the wildly macabre BASKET CASE horror series. Synopsis: After being separated again from his conjoined twin brother Duane (Kevin Van Hentenryck), Belial finds out he's going to be a deformed daddy! Mrs. Belial ("Eve", played by Denise Coop) delivers a litter of bouncing baby monsters, but the blessed event turns into a nightmarish ordeal when the police kidnap the little critters. They should know it's not safe to anger Belial! Attacking the cops in a climactic, gory rampage, everyone's favorite mutant mauler stops at nothing to get his newborns back!
Synapse Films is proud to present BASKET CASE 3: THE PROGENY in a beautiful high-definition transfer from original 35mm vault materials.
SPECIAL FEATURES:
Original Theatrical Trailer
Reversible Cover art with newly commissioned front piece by Joel Robinson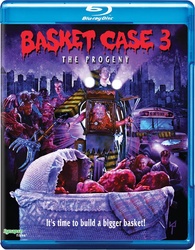 A five-man unit of cops on night patrol get more than they bargain for when they arrive at a creepy backwater town in the middle of nowhere after a call comes over the radio for backup. Entering a derelict building, the seasoned tough guys and their rookie junior, who's still haunted by a traumatic childhood dream, do the one thing you should never do in this kind of movie: they split up. They soon realize they've stumbled into a monstrous charnel house and descend into an ever-more nightmarish netherworld where grotesque, mind-wrenching horrors await them at every turn. But things aren't what they seem in this truly disturbing, outrageously gory, and increasingly surreal film whose unpredictable narrative slippages pull the carpet from under your feet and keep you guessing right up to the final moment. A wildly original film that reconfirms Turkey as the breakout national cinema of the moment.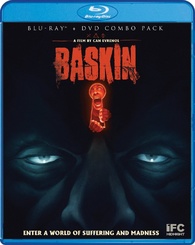 Violent Shit The Movie:

Amazon

- $39.99
Rome is shattered by a series of gruesome murders that paint the Eternal City deep red. Italian Police Inspector Aristide D'Amato and his German counterpart Hans Ebert initiate their criminal investigations. They stumble upon the eccentric Professor Vassago - a master of myths and mysteries - who is linked to Senator Vinci - a corrupt politician mutually driven by power and perversions. The suspicion grows that these atrocious crimes are connected with the return of one of the most heinous serial killers of our time, Karl the Butcher!
First 3000 copies include: CD - Original Soundtrack by Claudio Simonetti's Goblin, Collectible Blu-ray/DVD Slipcase and Sleeve, and 24-Page Booklet.
SPECIAL FEATURES:
Making they Movie by Director Luigi Pastore
The History of Violent Shit - Interview with Producer Steve Aquilina
Tribute to Lilli Carati - The Last Interview
Interviews with cast members Vincenzo Pezzopane, Michela Foresta, Daniela Ciccone, and Erika Kamese
World of Stars - Interviews with cast members Giovanni Lombardo Radice, Antonio Zequila, producer Steve Aquilina, and director Luigi Pastore
Trailers and Slides Show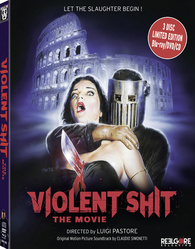 James Franco stars as Jake Epping, a high school teacher at a loss with his life, who wants to make a difference and do something meaningful. Encouraged by his ailing friend (Chris Cooper), Jake journeys back in time to prevent the assassination of President John F. Kennedy. The story transports audiences into the world of 1960s Texas as Jake explores the multiple mysteries surrounding the alleged assassin Lee Harvey Oswald (Daniel Webber). But Jake's mission faces threats not only from Oswald, but from Sadie (Sarah Gadon), a beautiful librarian he falls in love with, and from the Past itself... which doesn't want to be changed. And if the Past doesn't want to be changed, it will push back ­– often violently. With something for everyone, this edge-of-your seat mystery offers an epic and emotional thrill ride.
SPECIAL FEATURES:
All eight episodes of the original series
When the Future Fights Back featurette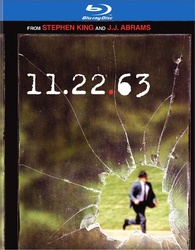 Supergirl (Season One):

Amazon

- $34.99
Meet Kara Danvers, aka Kara Zor-El, who escaped the doomed planet Krypton at age 12 and was raised by her foster family, the Danverses, on Earth. There, she learned to conceal her superpowers and keep her identity a secret. Years later, Kara lives in National City working for fierce taskmaster Cat Grant alongside her friends, IT technician Winslow "Winn" Schott and photographer James Olsen. But Kara's days of keeping her talents a secret are over when Hank Henshaw, head of a super-secret agency where Kara's older sister, Alex, works, enlists her to help them protect the world from sinister threats. Though Kara struggles to balance her extraordinary skills with her human emotions, her heart soars when she takes to the skies.
SPECIAL FEATURES:
ALL 20 one-hour episodes
2015 Comic-Con Panel: Warner Bros. Television Presents a Night of DC Entertainment at Comic-Con 2015: Supergirl
The Man From Mars: Superman once described J'onn J'onzz as "the most powerful being on the face of the Earth." This documentary will explore J'onn J'onzz's current circumstances on Supergirl as the alien who swore an oath to a dying father to protect his daughters.
A World Left Behind: Krypton: Kara Zor-El's home planet of Krypton was destroyed in the opening minutes of the pilot. It was a spectacular, futuristic society filled with mystery and intrigue! This documentary will explore the history of this famous planet and its role and depiction in Supergirl.
Gag Reel
Deleted Scenes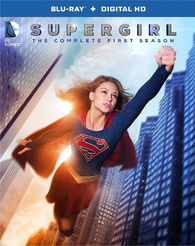 - The Impostor