It's still hard to believe that the year is about to be over, even though there are literally hours left to 2016! No matter how much happened over the past 12 months, the year tends to feel simultaneously like it flew by and also dragged its feet when it's just about over. We tend to take our last impressions as the overall summary of the year which means, with a lot of loss and bad news bottle necking in December, that every year is always terrible. But that's just not true. So, I wanted to look back at some of my favorite moments of the year, in no particular order. ☺
San Francisco got an Alamo Drafthouse
After delays and drama, the San Francisco branch of Alamo Drafthouse finally opened its doors... to more delays and drama. After the initial Star Wars ticketing debacle, the theatre has thrived and grown to be one of my favorite theatres in the bay area. Through regularly visiting the former New Missions Theatre, we've gotten to go to countless special screenings and events, and meet several fellow horror nerds.
When our favorite night of the week, Terror Tuesday, went to camp, we even decided to show our support by having patches and shorts made.
Patches were given to those dedicated movie goers who went to all four nights of Terror Tuesday Goes to Camp.
And shirts were sold separately. Incidentally, we do have some left...
The Overlook Family Grew
Although they don't have profile pictures yet, we added two new people to our panel of reviewers; Trash and The Ascendant. The Gross Uncle will capture their essence so you can have a face to go with the name. Trash was one of the film lovers we connected with over Terror Tuesday and Weird Wednesday love, and The Ascendant was next us in line at a midnight screening of Cannibal Holocaust. Lord Battle found out later that they had a mutual friend named KillDozer.
An estranged member of the Overlook family also returned to the dim comfort of the screening overlooked film. I'm talking about The Great Hornito.
We Got Published!
Book Wyrm, Lord Battle, Math Mage, Berkeley Blazer, KillDozer and I each wrote segments for When Animals Attack: The 70 Best Movies with Killer Animals at the beginning of 2015 and about two months ago we got the news that

the book was published

! The curator and editor, Vanessa Morgan, is a total horror nerd and the animal attack sub genre is her favorite. The cover art is awesome and I'd really love to work with her in the future, but this book has to do well in order for that to happen, so if you guys are interested it's available on

Amazon

. ☺
We Launched a Podcast
Have you checked out

The Overlook Hour

? It is recorded every Monday with Clark Little, KillDozer, and Lord Battle. We are only 19 episodes in and there have already been some pretty big guests, including Barbara Crampton, Dissector and Creator of Ghoul, and Stuart Bedford, Stu Jopia, and Giovanni Gentile from Good Tidings. Episodes go up Wednesday and there are big plans for the podcast going into 2017! Check out the published episodes on SOundcloud, Itunes, and

YouTube

.
The Return of Midnight Mass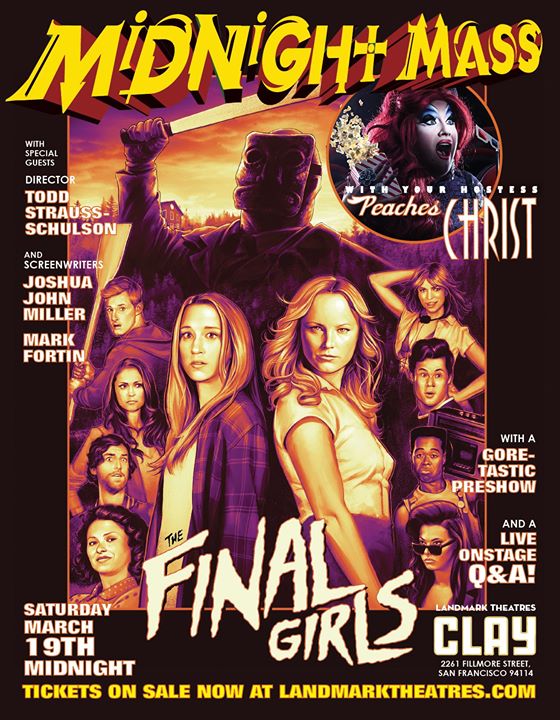 With the exception of KillDozer, most of the Overlook creatures have not had the pleasure of attending one of Peaches Christ's Midnight Mass screenings. Until this year, that is.
But this past March, she brought back the midnight event for one night at the Clay Theatre. She screened The Final Girls and followed it up with an interview with the director and screen writers, one of which you may recognize from another movie...
Joshua John Miller reluctantly signed a copy of Near Dark too. ☺
One of the coolest things about that night was getting to meet and talk to Peaches Christ. As a cult horror host, and a local one at that, Peaches is very outspoken about the changes that the bay area has been undergoing, and it was comforting to know that there are public figures who also understand how necessary the DIY events are to preserve the culture that makes San Francisco the beautiful and diverse place it is.
So this year hasn't been all bad, and I personally have high hopes for the next one.
Happy New Year's guys, see you in 2017!
-Huntress