What's everyone got planned for this weekend? Because there are some cool events going on in the city that you may want to consider (if you're not going already that is...). First we have the release of the final installment of the
Resident Evil
series coming to theatres today. Rivaling it,
We Are the Flesh
will start a short run at the Roxie Theatre that will go into February. And that's what most of the Overlook creatures are more interested in. This is also the weekend of the last Creepy KOFY Movie Time Party at the Balboa Theatre. We were sad to see the show end; Creepy KOFY used to make our Saturday nights. And it brought a lot of pride, being one of the only horror hosted Midnight Movie show in the bay area. If you're a fan, come out to the Balboa Saturday night!
One last highlight from this weekend is the orientation for anyone interested in joining the Peaches Christ volunteer army for 2017. It will happen Saturday morning at the
Oasis SF
, from 11-1:30pm. You can RSVP and get more info at the
Peaches Christ Volunteer Orientation
page. Hope to see some of you guys there!
Opening Today
Opens Friday 27th (1hr 46min)
Action/ Horror/ Sci-Fi (IMDB)
The human race's last hope against apocalyptic obliteration is super soldier Alice (Milla Jovovich), but she's been stripped of her psychic powers. She must form alliances and rally survivors in Raccoon City for the climactic battle against the Umbrella Corporation and its ravenous hordes of the undead. This sixth installment of the video game-inspired franchise is directed by Paul W.S. Anderson (AWP: Alien vs. Predator).

Creepy KOFY Movie Time Party!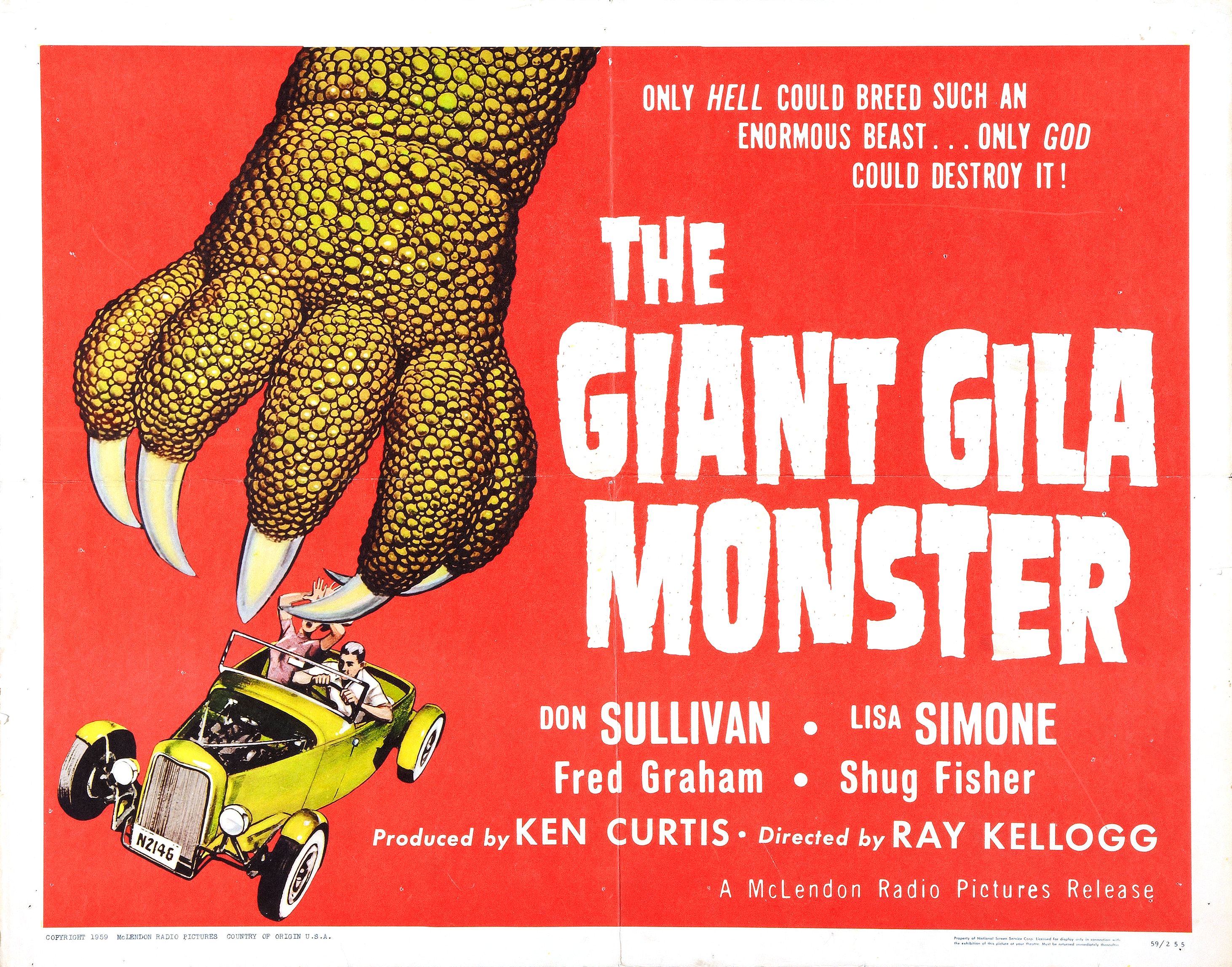 The Giant Gila Monster (1959)
Saturday 28th @ 8pm (1hr 14min)
Horror/ Sci-Fi (IMDB)
In The Giant Gila Monster, most of the plot is given over to a group of hot-rod enthusiasts, headed by nice-guy Chace Winstead (Don Sullivan), who sometimes breaks into song. Before long, the titular gila monster, which is just that -- a real gila monster -- is lumbering about on miniaturized sets terrorizing the community, killing at random, knocking over trains and barns, and in general making a nuisance of itself. When the monster threatens to devour Chace's kid sister, he attempts to dispatch the beast with a hot rod full of nitroglycerin. The Giant Gila Monster was originally released on a double bill with The Killer Shrews.
Blue Collar (1978)
Friday 27th @ 7:15pm (1hr 54min)
Drama/ Crime (IMDB)
Three guys, two African-American and one Polish, work on the production line in a Detroit automobile factory, and they are fed-up with the conditions. It dawns on them that their workers' union is doing them no greater good than their screwed-up bosses. So the trio pulls off a clumsy robbery at union HQ, in which they only gain access to some suspicious documents that point to union links with organized crime. Suddenly they're out of their league: violence, paranoia, rivalry, and recrimination erupt around them.
-with-
Straight Time (1978)
Friday 27th @ 9:30pm (1hr 54min)
Crime/ Drama (IMDB)
Paroled criminal Max Dembo is compelled to withstand the calculated cruelties of parole officer Earl Frank. The more Max tries to go straight, the more he is defeated by circumstance. It eventually becomes clear that neither Hoffman nor his fellow ex-cons will be able to survive looking for legitimate work.
Charley Varrick (1973)
Saturday 28th @ 1:30pm (1hr 51min)
Action/ Crime/ Drama (IMDB)
A man, his wife, and their friend, stage a bloody bank robbery, unaware they are stealing money from the Mob.
-with-
The Brink's Job (1978)
Saturday 28th @ 3:45pm (1hr 44min)
Comedy/ Crime/ Drama (IMDB)
On Jan. 17, 1950, a group of unlikely criminal masterminds commits the robbery of the century. Led by Tony Pino (Peter Falk), a petty thief fresh out of prison, and Joe McGinnis (Peter Boyle), who specializes in planning lucrative capers, the gang robs Brink's main office in Boston of more than $2 million. However, things begin to go awry when the FBI gets involved, the cops start cracking down on the gang and McGinnis refuses to hand over the loot.
Sexy Beast (2000)
Saturday 28th @ 7:15pm (1hr 31min)
Crime/ Thriller (IMDB)
Brutal gangster Don Logan recruits "retired" safecracker Gal for one last job, but it goes badly for both of them.
-with-
The Aura (2005)
Saturday 28th @ 9:10pm (2hrs 18min)
Action/ Arthouse/ Drama/ Suspense (RottenTomatoes)
A lonely taxidermist with a photographic memory dreams of committing the "perfect crime" in Nine Queens director Fabián Bielinsky's deliberately paced existential thriller. Espinosa (Ricardo Darín) is an epileptic fortysomething who makes his living by stuffing creatures for the natural history museum in Buenos Aires. It is there that Espinosa meets friend and fellow taxidermist Sontag (Alejandro Awada). After picking up their paycheck at a nearby bank, Sontag kindly invites the lonely Espinosa to join him in the forests of southern Argentina for a brief hunting getaway. Soon after checking into their hotel, Sontag and Espinosa take to nature in hopes of bagging a buck, but their voyage takes a dark turn when, in the grip of another seizure, Espinosa accidentally shoots and kills hotel owner Dietrich (Manuel Rodal). Though his suspicions that Dietrich was involved with some shady dealings seem little more than a means for justifying the tragic turn of events, Espinosa soon realizes that he may be onto something when a pair of thugs named Sosa (Pablo Cedron) and Montero (Walter Reyno) come searching for the missing proprietor. As all of the elements quickly fall into place, it begins to appear as if Espinosa may finally be prepared to execute the crime he has always dreamt about.
Before the Devil Knows You're Dead (2007)
Sunday 29th @ 1pm & 6pm (2hrs 3min)
Thriller/ Indie Film (Google)
Philip Seymour Hoffman, Ethan Hawke, Albert Finney, and Marisa Tomei star in director Sidney Lumet's thriller concerning two brothers who hatch a plan to rob their parent's jewelry store. When the job goes awry, the entire family is set on a collision course with tragedy. Andy (Hoffman) is an overextended broker in desperate need of some cash. His brother, Hank (Hawke), isn't much better off, so when Andy hatches a plan to rob their parent's modest jewelry store, it seems like a foolproof way to make a quick buck. But Andy's trophy wife, Gina (Tomei), is secretly sleeping with libidinous younger brother Hank, and when the robbery proves a complete disaster it isn't long before loyalties start to shift. Now Andy and Hank's father, Charles (Finney), is determined to make the unidentified robbers pay for their crime. What's a father to do when he discovers that the ones he loves have become his worst enemies? ~ Jason Buchanan, Rovi
-with-
Victoria (2015)
Sunday 29th @ 3:20pm & 8:20pm (2hr 20min)
Crime/ Drama/ Romance (IMDB)
A young Spanish woman who has newly moved to Berlin finds her flirtation with a local guy turn potentially deadly as their night out with his friends reveals a dangerous secret.
Friday 27th & Saturday 28th @ 9pm (1hr 20min)
Sunday 29th @ 8:15pm
Horror/ Sci-Fi/ Fantasy (RottenTomatoes)
After the end of the world, a young brother and sister roam an apocalyptic city looking for food and shelter. They take refuge in the dilapidated lair of a strange hermit who makes them a dangerous offer to survive. He puts them to work building a bizarre cavernous structure, where he acts out his insane and depraved fantasies. Trapped in a maddening womb-like world under his malign influence, they find themselves sinking into the realms of dark and forbidden behavior.
-Huntress