Hey everyone! We're in for a pretty sparse movie weekend in theatres, but that's to be expected in January... There is a new movie opening officially today and it's actually not getting completely trashed. That would be M. Night Shyamalan's newest film,
Split
. Aside from that,
Noir City 15
kicks off at the Castro Theatre today and it will be running almost until the end of the month. All of the films playing this weekend have impossibly high scores on Rotten Tomatoes, mostly ranging in the high 80's and above. That may not mean anything to a lot of you, but it still seems very impressive for movies that are decades old.
Which ones sound interesting to you guys?
Opening Today
Split (2017)
Opens Friday 20th (1hr 57min)
Drama/ Horror/ Mystery (RottenTomatoes)
While the mental divisions of those with dissociative identity disorder have long fascinated and eluded science, it is believed that some can also manifest unique physical attributes for each personality, a cognitive and physiological prism within a single being. Though Kevin has evidenced 23 personalities to his trusted psychiatrist, Dr. Fletcher, there remains one still submerged who is set to materialize and dominate all the others. Compelled to abduct three teenage girls led by the willful, observant Casey, Kevin reaches a war for survival among all of those contained within him - as well as everyone around him - as the walls between his compartments shatter apart.
Criss Cross (1949)
Friday 20th @ 7:15pm (1hr 28min)
Crime/ Drama/ Noir (IMDB)
Armored car guard Steve Thompson (Burt Lancaster) should know better than to make whoopee with his no-good ex-wife Anna (Yvonne De Carlo) -- especially since she's now married to gangster Slim Dundee (Dan Duryea). Caught by Slim in a compromising position with Anna, Steve alibis that he's merely planning an armored car heist. Slim doesn't completely buy this, but he decides to go through with the robbery, sending along several henchmen to make sure that Steve doesn't pull a double-cross. But he hasn't reckoned with Anna, who convinces the wounded Steve to steal the loot and skip town with her. No one ever wins in a set-up like this; the audience knows this, but follows along just the same. Based on a novel by Don Tracy, Criss Cross is a terse, doom-drenched film noir from a master of the game, director Robert Siodmak. And yes, that handsome hunk dancing with Yvonne De Carlo in the opening scene is an unbilled Tony Curtis.
-with-
The Asphalt Jungle (1950)
Friday 20th @ 9:10pm (1hr 52min)
Crime/ Drama/ Noir (IMDB)
The Asphalt Jungle is a brilliantly conceived and executed anatomy of a crime -- or, as director John Huston and scripter Ben Maddow put it, "a left-handed form of human endeavor." Recently paroled master criminal Erwin "Doc" Riedenschneider (Sam Jaffe), with funding from crooked attorney Emmerich (Louis Calhern), gathers several crooks together in Cincinnati for a Big Caper. Among those involved are Dix (Sterling Hayden), an impoverished hood who sees the upcoming jewel heist as a means to finance his dream of owning a horse farm. Hunch-backed cafe owner (James Whitmore) is hired on to be the driver for the heist; professional safecracker Louis Ciavelli (Anthony Caruso) assembles the tools of his trade; and a bookie (Marc Lawrence) acts as Emmerich's go-between. The robbery is pulled off successfully, but an alert night watchman shoots Ciavelli. Corrupt cop (Barry Kelley), angry that his "patsy" (Lawrence) didn't let him in on the caper, beats the bookie into confessing and fingering the other criminals involved. From this point on, the meticulously planned crime falls apart with the inevitability of a Greek tragedy. Way down on the cast list is Marilyn Monroe in her star-making bit as Emmerich's sexy "niece"; whenever The Asphalt Jungle would be reissued, Monroe would figure prominently in the print ads as one of the stars. The Asphalt Jungle was based on a novel by the prolific W.R. Burnett, who also wrote Little Caesar and Saint Johnson (the fictionalized life story of Wyatt Earp).
Kansas City Confidential (1952)
Saturday 21st @ 1:30pm (1hr 39min)
Drama/ Mystery/ Suspense (RottenTomatoes)
Kansas City Confidential, Phil Karlson's low ( low ) budget, B-grade film noir, opens on a Kansas City armored-car robbery perpetrated by cynical, corrupt ex-policeman Timothy Foster (Preston S. Foster). Foster devises an outrageous scheme: he will recruit three of the most vicious and unrelenting criminals he can find (screen heavies Lee Van Cleef, Jack Elam and Neville Brand) to undertake a robbery, blackmailing them into the heist with incriminating evidence from other "jobs." As an eccentric and clever conceit, Foster forces each of the perpetrators to wear masks, thus concealing their identities from one another and preventing the old pitfall of the men squealing and backstabbing. The heist comes off without a scratch, but a complication arises when the ignorant cops pick up an unrelated fellow, Joe Rolfe (John Payne) for his ownership of a van similar to the one used in the caper. In time, Rolfe is cleared, but he grows irate over the accusations and sets off to find Foster and co. and teach them a lesson. He finally happens upon one of the perpetrators in Mexico, beats him nearly to death, and assumes the victim's identity - and that's when things really get complicated. Though produced under the Hays Code censorship regulations, Kansas City Confidential constituted one of the most brutal and violent crime pictures made up through that time; as such, it retains historical significance. It also claims a strong cult following.
-with-
Violent Saturday (1955)
Saturday 21st @ 3:30pm (1hr 30min)
Crime/ Drama/ Noir (IMDB)
In this film, three bank robbers case a small Arizona mining town prior to pulling a hold-up, and the audience gets to know the various townsfolk as they're scrutinized by the crooks. A pacifistic Amish farmer is forced to take action when his children are threatened by the criminals.
Four Ways Out (1951)
Saturday 21st @ 7:15pm (1hr 25min)
Crime/ Drama (IMDB)
Gina Lollobrigida has top billing in Four Ways Out, but the film's dramatic weight is carried by its male stars. The story concerns a quartet of hard-luck cases, played by Renato Baldini, Enzo Maggio, Paul Muller and Fausto Tozzi. Feeling as though the cards have been stacked against them in life (and not without reason), the foursome turns to crime. The film's setpiece, the robbery of a stadium box-office while a soccer game is in progress, bears a passing resemblance to the key scene in Stanley Kubrick's later The Killing, though it is obvious that Kubrick did not in any way imitate the earlier film stylistically. One of the collaborators on the script for Four Ways Out was Federico Fellini. ~ Hal Erickson, Rovi
-with-
Big Deal on Madonna Street (1958)
Saturday 21st @ 9pm (1hr 51min)
Caper Story/ Heist Film (Google)
Best friends Peppe (Vittorio Gassman) and Mario (Marcello Mastroianni) are thieves, but they're not very good at it. Still, Peppe thinks that he's finally devised a master heist that will make them rich. With the help of some fellow criminals, he plans to dig a tunnel from a rented apartment to the pawnshop next door, where they can rob the safe. But his plan is far from foolproof, and the fact that no one in the group has any experience digging tunnels proves to be the least of their problems.
Rififi (1955)
Sunday 22nd @ 1pm & 6:30pm (2hrs 2min)
Crime/ Thriller (IMDB)
Jules Dassin's second European production following his HUAC blacklisting from Hollywood is considered the first heist film, a sub-genre that would later include the likes of everything from The Asphalt Jungle to The Killing to Reservoir Dogs. The film follows the exploits of four thieves--Tony (Jean Servais), Jo (Carl Mohner), Cesar (Dassin himself, under the pseudonym "Perlo Vita") and Mario (Robert Manuel)--who hatch a scheme to rob a Paris jewelry store.
-with-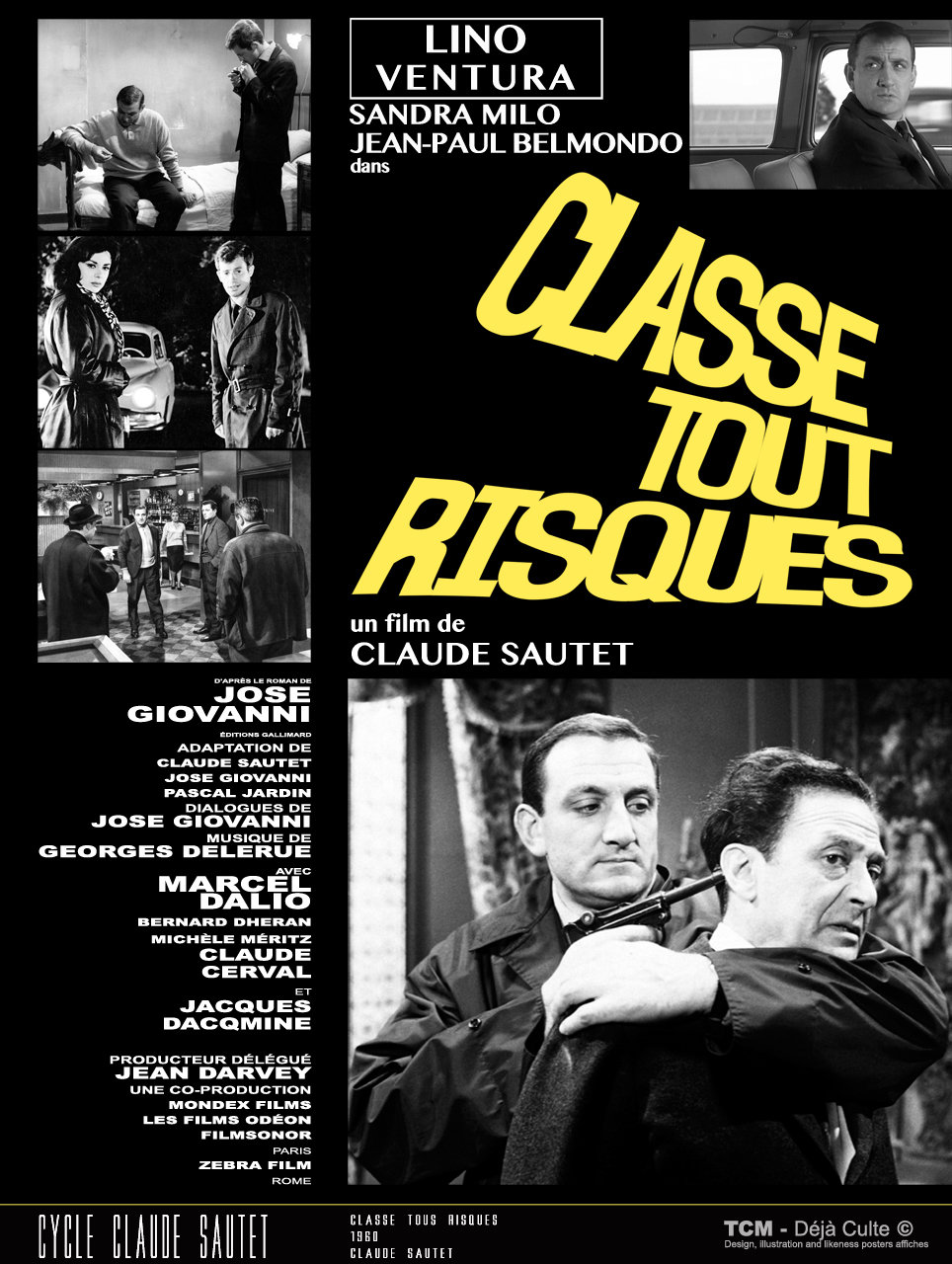 The Big Risk (1960)
Sunday 22nd @ 3:30pm & 9pm (1hr 50min)
Crime/ Drama/ Romance (IMDB)
A criminal on the run finds going home after a decade is harder than he expects in this drama from French filmmaker Claude Sautet. Gangster Abel Davos (Lino Ventura) is wanted for murder in France, and has been living underground in Italy for ten years. Since then, Abel has married Therese (Simone France) and fathered two sons, and he's decided it's time to come home. Abel has planed an elaborate scheme in which he'll steal a fortune to finance his journey and head home with Therese and the boys, but little goes as planned, and he arrives in Paris without his wife and running from the law with two kids in tow. An underworld boss who owes Abel some favors helps him put together a plan to travel across France in an ambulance to avoid suspicion, and recruits a headstrong young gangster, Eric (Jean-Paul Belmondo), to serve as Abel's driver and right-hand-man. En route, Abel tries to settle some old score with criminal associates who betrayed him. Based on a novel by Jose Giovanni, Classe Tous Risques was the first feature film from Sautet, who previously had worked as an assistant director for some of France's most prestigious filmmakers. ~ Mark Deming, Rovi
-Huntress